Homes for Our Special Needs Animals 
---
From time to time the Bannock Humane Society fosters animals who have Special Needs. The animal might have a communicable disease such as Feline AIDS or Feline Leukemia (FELV). These diseases are not a problem for humans, but are dangerous in the cat population. Other animals might be elderly and have health issues. These special needs animals want to be loved and cared for just like any other living being. They just have a unique history or medical situation. Take Josey for example… Licorice …and The Incredible Four!
Open your Heart for Josey!
Josey is a 6 year old, short haired, spayed, medium sized female cattle dog cross.  She was adopted in August of 2013 but her mom passed away about a year ago and since then she has not received the love and attention that she needs. Josey has learned how to escape and has headed toward the nearby highway and interstate, perhaps on a mission to find her mom. She needs a  home with people who will fill her life with happiness again.
Josey did very well in town with a smaller, fenced yard and a doggie door so that she could go in the house when she wanted with her Corgi playmate. She is housebroken and crate trained and likes to spend a lot of time in the house, especially in winter. She is energetic and loves to play with lots of toys and balls and spends hours running and playing with the German Short-haired pointer houemate. She knows basic obedience but needs more leash time and a better recall. Her love of treats and her curiosity makes it easy for her to learn just about anything.  At the Run with the Big Dogs event she was very well mannered, dealt well with all the commotion and was very good with people, kids & dogs.
Josey loved riding in the car with her mom and wishes she could go for rides and adventures again.  She is very, very sweet and friendly and would do well with other dogs or by herself, as she would love the extra attention. She would also love to have someone who would take her on hikes or go for runs.
Meet Beautiful Licorice 
Hi there, my name is Licorice. I'm very glad that I have this opportunity to tell you a little bit about myself.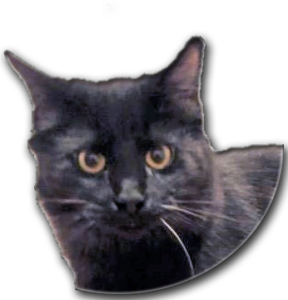 I am looking for a forever family and to finally have a permanent place to call my home. I really enjoy living with my foster family, but it's time to go my own way.
When I was around three weeks old, I became an orphan. No one knows what happened to my mommy and litter mates. A stranger found me all by myself in a lot of pain and turned me over to the Bannock Humane Society. They thought my leg was broken. Luckily, it wasn't, but was badly mauled.  It took quite a long time for my leg to heal, and for me to be nursed back to good health, but my heart still hurts. I am around eight months old now, and I still haven't found a permanent inside home. I just need to find someone who can make room in their heart for me.
I'm a really sweet girl who has one of the most awesome personalities ever!  I think because of having such a rough start with my leg, one of my favorite things to do is run around the house. I enjoy playing with any toy I can get my paws on!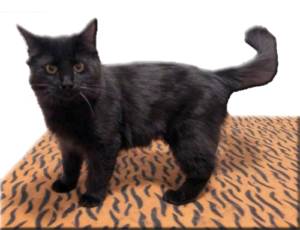 I'm a really sweet girl who has one of the most awesome personalities ever! I think because of having such a rough start with my leg, one of my favorite things to do is run around the house. I enjoy playing with any toy I can get my paws on! I get along well with other cats, but I don't care too much for kittens, because I missed my opportunity to grow up with my littermates. I'm not sure about dogs; I have always been more of a cat gal myself. I'm pretty independent most of the time, but I like being held for short periods and enjoy getting attention when I need some love. 
Well, I'm happy that I have gotten to introduce myself to you. I hope you have room in your heart and your home to give me the gift of a forever family. My story has a sad beginning, but hopefully you will be the one to give it a happy ending.
The Incredible Four's Story
The Incredible Four, (one boy and three girls) used to be very cold, feral kittens.  Our story begins in the fall; we were born inside a bush in our foster family's backyard.
But first we need to go back to last summer; this is when they first met our mommy. They found one of our half-brothers trapped in a bush when he was only one week old. Later that day, our mommy came back and took him inside the kitten nest.  So, now that they were discovered, our foster family fed our mommy every day.
About four weeks later, our mommy left the litter of seven on their back porch. The kittens were very sick and needed lots of care.  Since July, our foster family has been trying to trap our very smart and stubborn mommy to have her spayed, but uh-oh, (this is where we come in). In November, when we were around eight weeks old, our mommy started to take us to that very same porch to eat. Now, we were the ones who were discovered.
Oh boy, did we make it difficult for our foster family to catch us! We tried to hide in a ditch pipe, but it didn't work too well. Our foster dad was clever and was able to scoop three of us up one at a time with rope and a plastic flower pot. We scratched and bit him, (which we really regret now). Violet escaped back to the kitten nest, but a couple days later, she was trapped, because she couldn't refuse the tuna in the big metal box.
Now, we love living inside with our foster family and littermates, but it's time to go our separate ways.  We definitely don't want to live outside ever again.)  We are looking for forever families of our own and a place to permanently call home.